The Bar at The House on Sathorn introduces an addictive energy of a juxtaposition between the Thai heritage, Russian Embassy use and modern revival. The attractive symmetric lines and one of the best detailed interior spaces of the House offer an experience like no other.
The Bar effortlessly accommodates a day-to-night scene with spaces designed for private meetings and afternoon tea. Once the sun sets, energy increases and cutting-edge sounds are introduced, complemented by Asian inspired bar bites, a collection of champagnes, wines, sakes, and an enticing mix of crafted seasonal cocktails that surprise your senses and hit the memories.
Cuisine > Asian Inspired-Light Fare
Dress Code > Smart Casual
Please refrain from wearing short pants, flip flops or slippers, and sandals or sleeveless shirts for men.

Smoking > No
*There is a smoking area outside.

Hours >
12PM - 12AM on Sunday to Thursday
12PM - 2AM on Friday and Saturday
No children (12 years old and above are allowed).
VIEW THE BAR MENU

SPG members enjoy a minimum of 10% discount. Not a member yet? Join now (Terms & Conditions apply.)

AGED NEGRONI AT THE BAR
WORTH THE WAIT
SUNDAY - THURSDAY | 12PM - 12AM l FRIDAY & SATURDAY l 12PM - 2AM
Introducing Aged Negroni cocktail, now on the menu at The Bar, The House's stylish lounging and gathering spot.
So what has The Bar done to the classic Negroni, a drink first mixed back in 1919? Buried it. That's right, the imaginative mixologists of The Bar have perfected an ageing process that transforms the Negroni's ingredients – gin, vermouth rosso and Campari – into an extraordinary potion.
Enjoy a mellow Aged Negroni cocktail for THB 450++ per glass. Available now at The Bar daily from 12PM – 12AM (on Friday and Saturday The Bar is open until 2AM).
*The serving is upon availability.
WHISKY FLIGHT, CHOCOLATE AND CIGARS
SUNDAY - THURSDAY | 12PM - 12AM l FRIDAY & SATURDAY l 12PM - 2AM
SPECIAL WHISKY OFFER FROM THE BAR
Get lost in time at The Bar with the Maritime Malt Old Pulteney Whisky paired with luscious chocolate. Complete your lounging experience with our exclusive cigar menu.
OPERATING HOURS:
SUNDAY - THURSDAY | 12PM - 12AM
FRIDAY & SATURDAY l 12PM - 2AM
BEVERAGE CART
SUNDAY - THURSDAY | 12PM - 12AM l FRIDAY & SATURDAY l 12PM - 2AM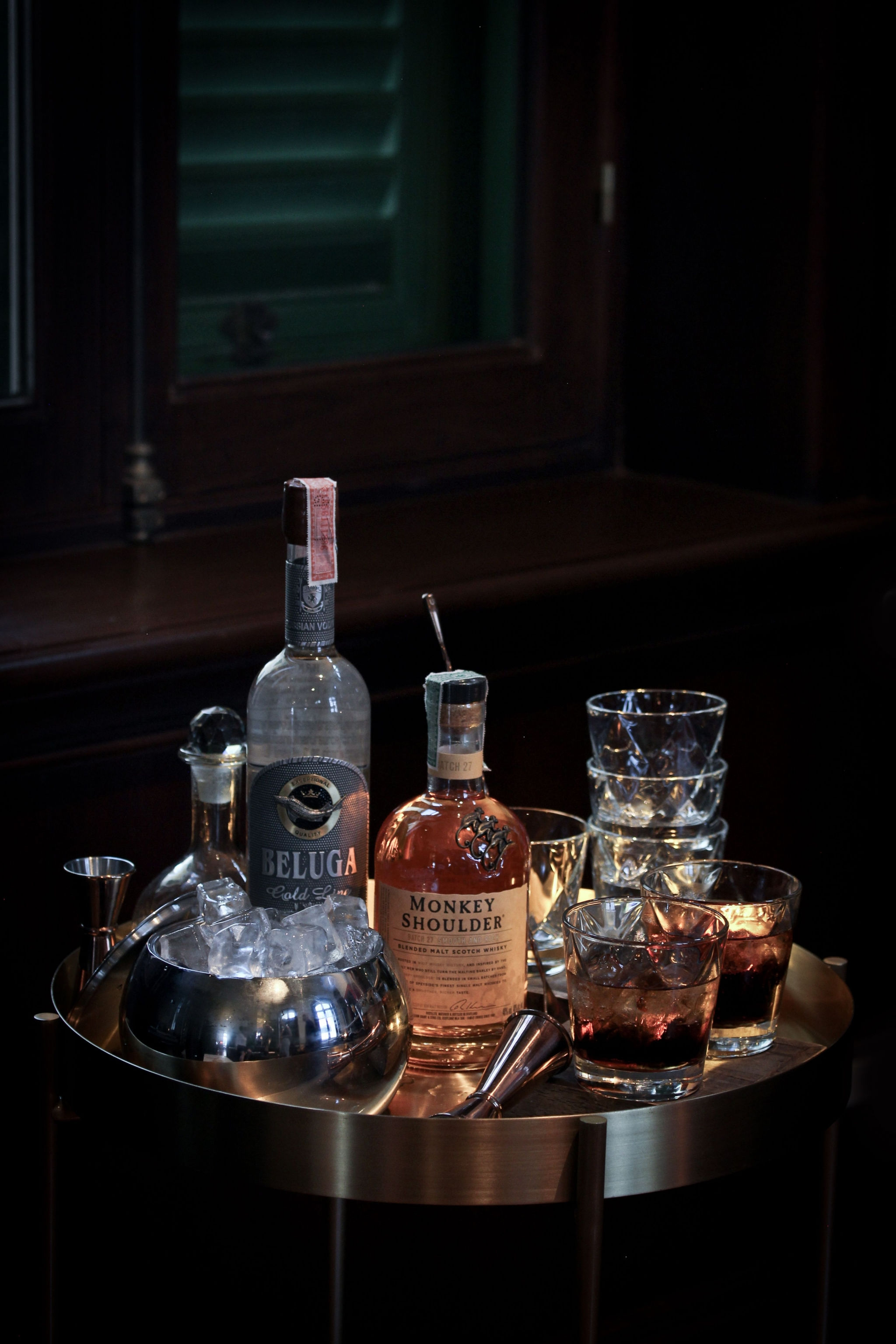 THE BAR INTRODUCES AN ENTICING DRINK PROMOTION AT THE HOUSE ON SATHORN
Tired of having to find or call the waiter everytime you need a new drink or to freshen it up? What if you had your own personal beverage tray that never leaves your side? And, one that holds not the usual drinks and mixers but instead premium Champagnes, spirits as well as gourmet treats? The new personal beverage cart concept is available for serious fun-seekers who like to be in charge. Now, you can get things done yourself and do it exactly the way you like.
The Bar's elegant personal beverage carts are available in two types, each in three variations:
Champagne & Bubbly (inclusive of 2 bottles per package in addition to a choice of juice, strawberry basket or soft drink)
• Classic package – Moët & Chandon | THB 11,000++
• Elegant package – Billecart-Salmon | THB 17,000++
• Luxury package – Dom Perignon |THB 36,000++
Spirits Freedom (inclusive of 2 bottles per package in addition to 8 soft drinks and a bucket of ice)
• Classic package – Tanqueray, Ketel One or Johnny Walker Black | THB 6,500++
• Elegant package – Hendrick's, Belvedere, Grey Goose or Johnny Walker Gold | THB 9,000++
• Luxury package – Beluga Gold or Monkey Shoulder| THB 16,000++
Just when you thought it couldn't get any more special than that, The Bar now offers a SPECIAL CIGAR MENU that guests can enjoy at The House on Sathorn. Together with The Courtyard, The Bar also offers 'The Early Evening' special promotion that gives you 25% off on selected cocktails, beers and wines! The Early Evening is available Monday – Friday from 5PM – 7PM.
IN-HOUSE GUESTS ARE NOW ABLE TO CHAT WITH US VIA:
WHATSAPP OR iMESSAGE > +66 (0) 91 010 0299
BBM ID > 7A875B5D