The heart of The House, an outdoor space that welcomes those in search of escaping the hecticness of Sathorn road and admiring true beauty of the colonial house in a sophisticated way. The best evenings throughout the year are complimented with live music performances that feature the best of Thailand's vocalists. Their authenticity and passion is felt all around.
The Courtyard exemplifies Chef Fatih Tutak's imaginative take on today's global food culture portrayed with an authentic comfort food menu. The cuisine is hinged on local, seasonal and sustainable ingredients. Each period of the day is accompanied by a perfectly matched experience, from light business lunches, opulent afternoon tea and rich dinners to a perfect outdoor ambience for drinks with friends.
The Courtyard menu can be enjoyed throughout the day at The Courtyard and during lunch hours only; indoors at The Dining Room.
AUTHENTIC COMFORT MENUS AT THE COURTYARD
CHEF FATIH INTERPRETS FAVORITE THAI DISHES IN HIS OWN WAY BUT YET WITH FULL FLAVORS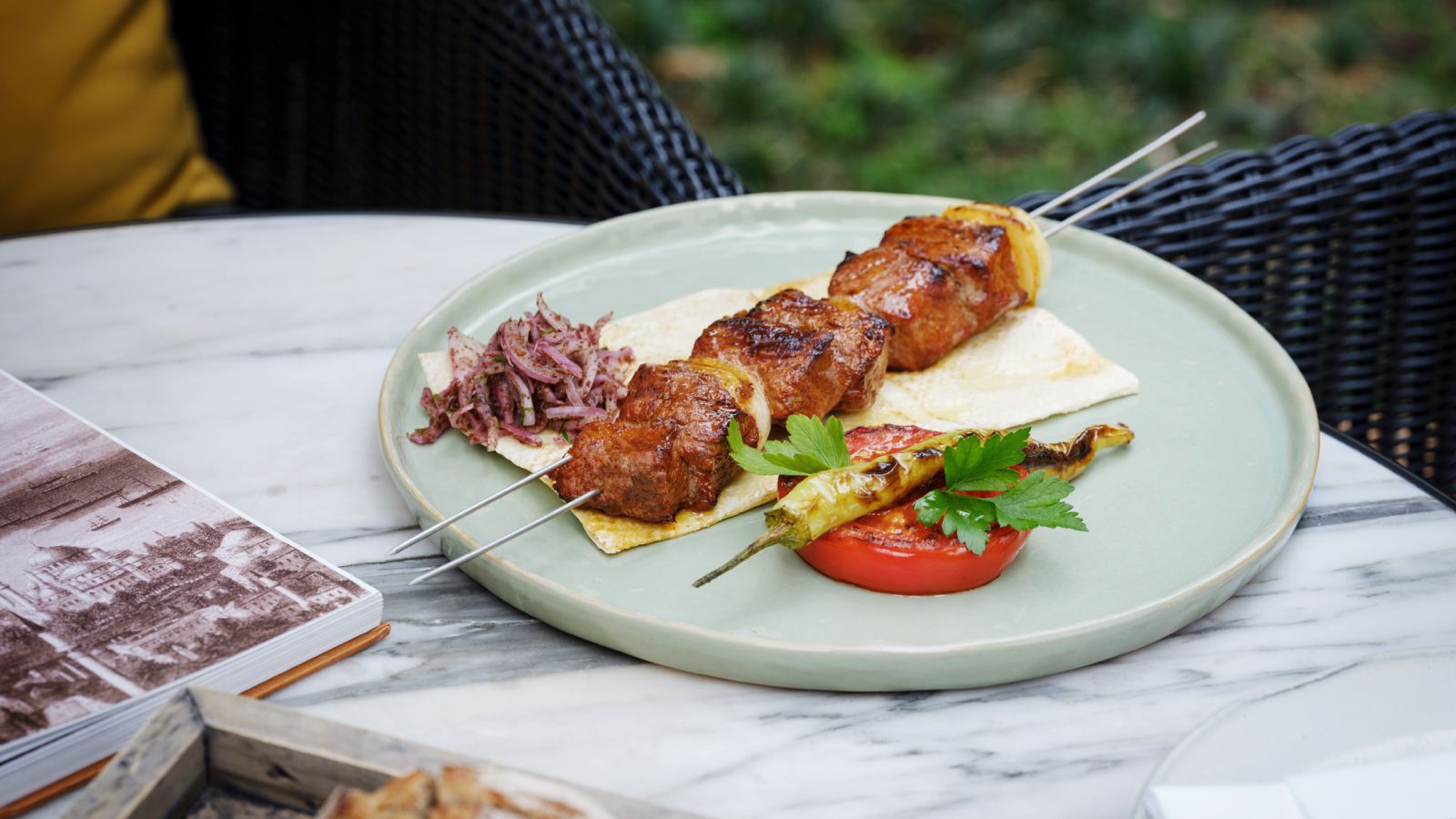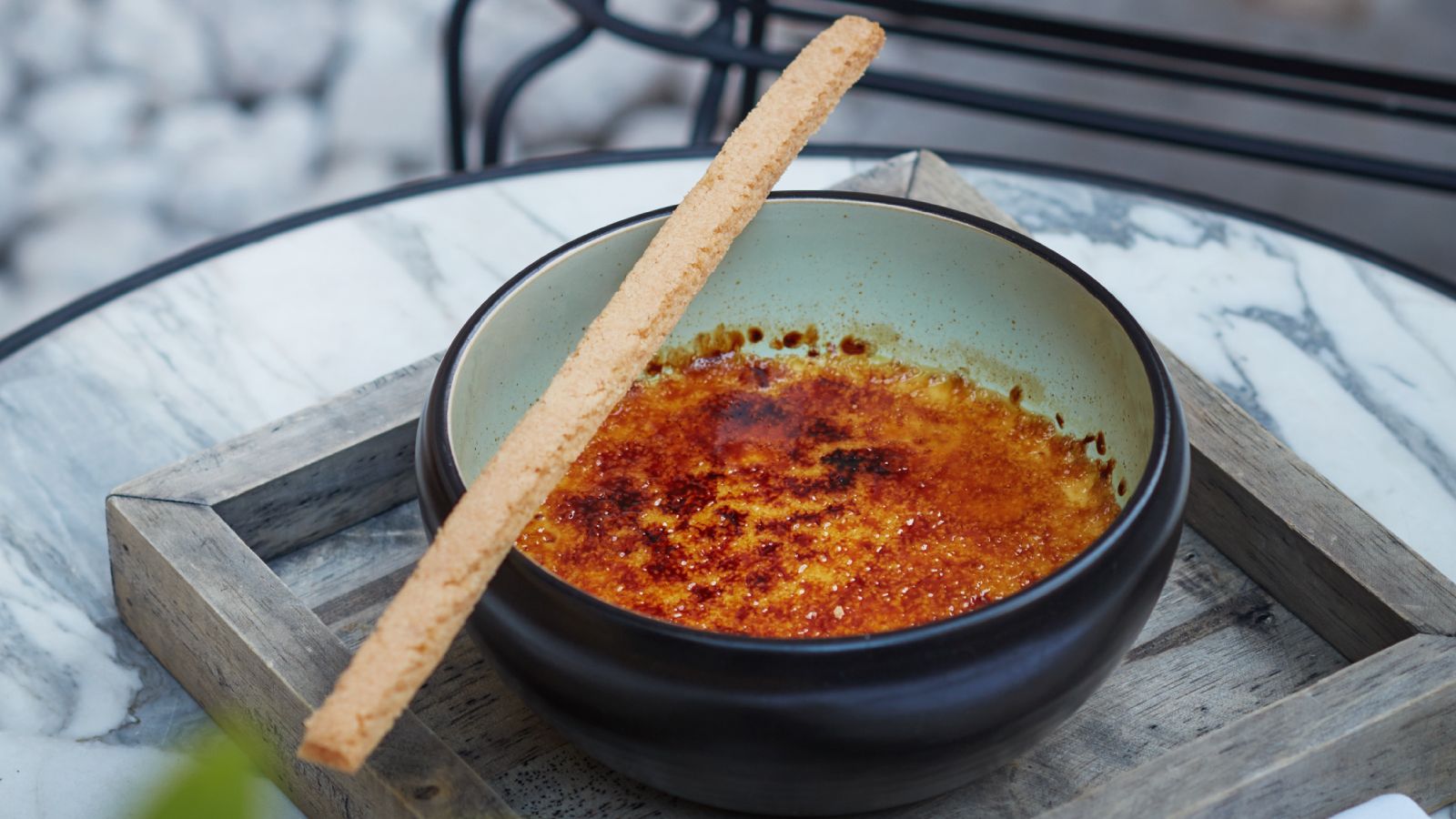 The menu at The Courtyard features a wide range of selections from salads to sandwiches which feature dishes along with a few local Thai favorites such as Slow Cooked Massaman Curry with Wagyu Ribs or Crab Curry with Celery, Eggs and Onions. Other A la carte highlight dishes to try are Endives Salad with Quinoa, Blue Cheese and Citrus Vinaigrette and Grilled Beef Kofte served with Pilav and Adapazari Islama. We've also added a new exciting addition to our Robata Grill menu which is the fresh Phuket Lobster. New highlight sweet desserts include a Peruvian Warm Chocolate Cake with Hokkaido Milk Ice Cream.
Guests preferring à la carte ordering, moreover, can now enjoy lunch indoors at The Dining Room where The Courtyard's full menu is available. Please note The Dining Room's menu remains available but for dinner only.
DON'T MISS !
HIGHLIGHT PROMOTIONS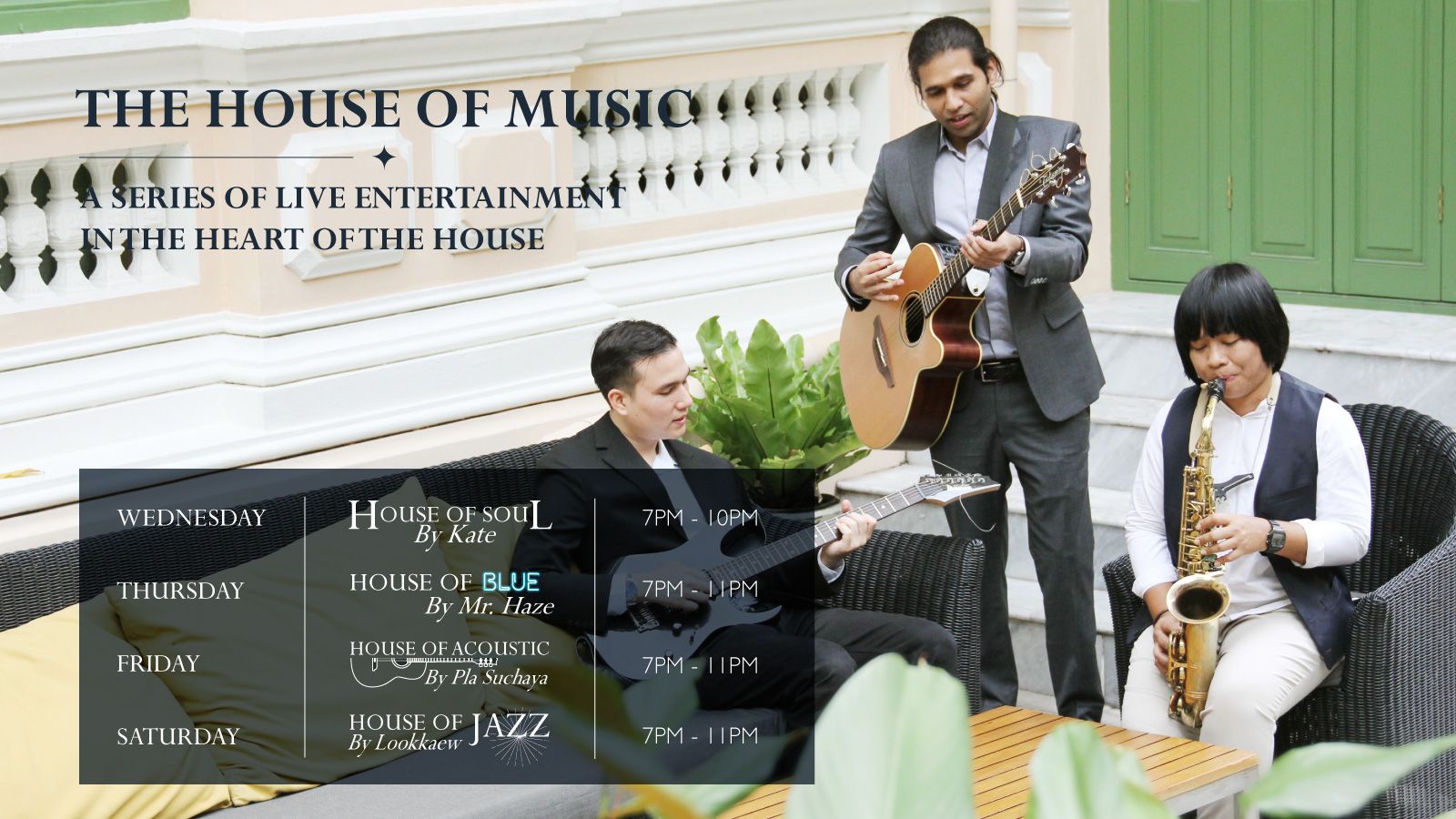 THE HOUSE OF MUSIC (LIVE ACOUSTIC MUSIC)
WEDNESDAY - SATURDAY
Spend your evenings in the garden and get lost in time with live acoustic music from talented artists. Make the night last longer with draft beers and authentic comfort food from The Courtyard.
LIVE BAND SCHEDULE

Wednesday from 7PM - 10PM
Thursday - Saturday from 7PM - 11PM
The Courtyard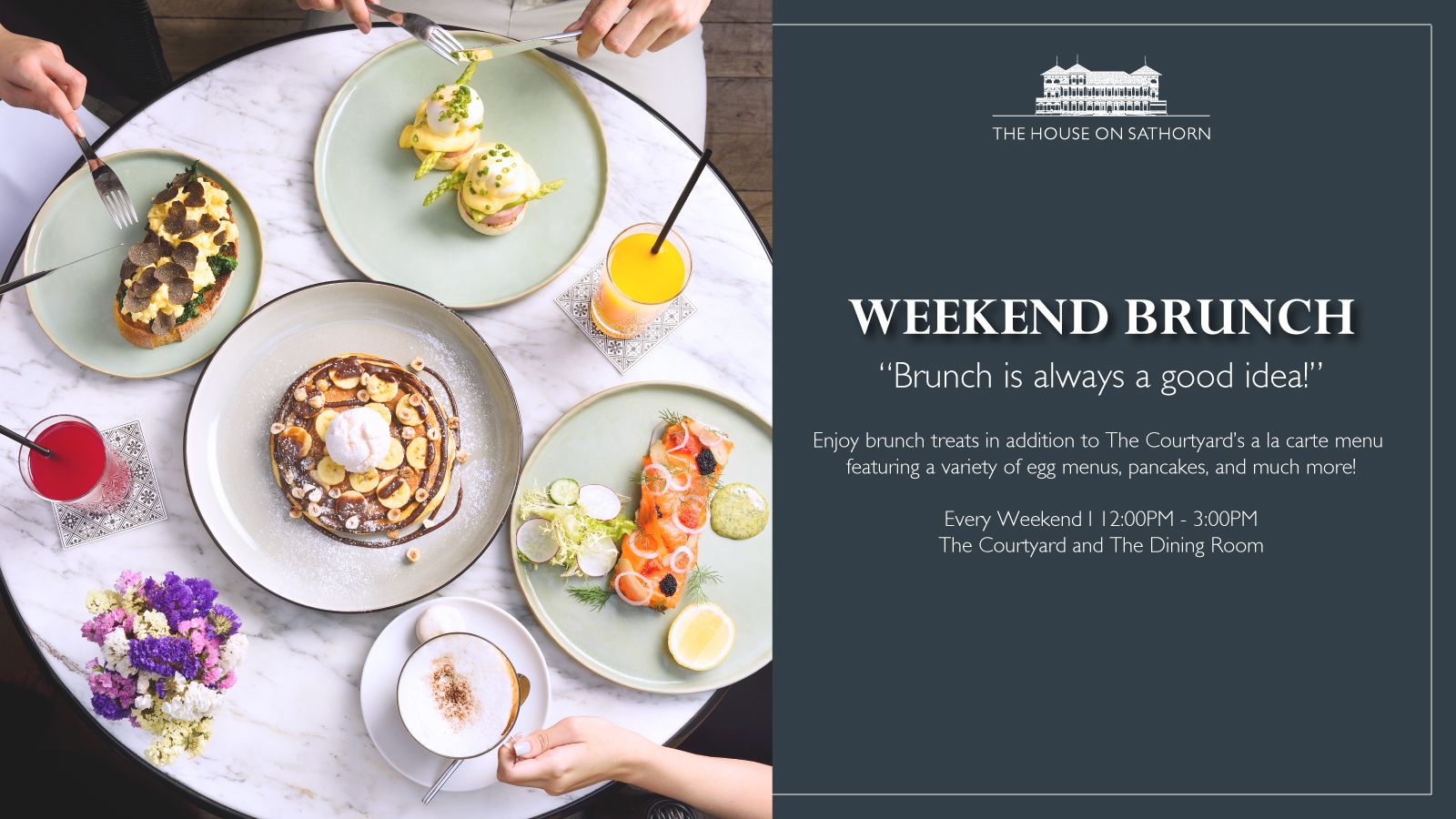 WEEKEND BRUNCH
SATURDAY & SUNDAY | 12PM - 3PM
Brunch is always a good idea !
The Courtyard presents new brunch treats in addition to its a la carte menu featuring a variety of egg menus, pancakes, and much more !
Egg menus on the list include Egg Benedict, Turkish Menemen, and more. Cheese platter and charcuterie are also on the menu.
Every Saturday and Sunday from 12PM - 3PM
The Courtyard and The Dining Room
THE COURTYARD SET LUNCH
MONDAY - FRIDAY | 12PM - 2:30PM
The Courtyard Set Lunch menu sticks to the restaurant's strengths; hearty comfort foods with focus on seasonal ingredients.

The Courtyard's Set Lunch Menu is priced at THB 640++ for two and THB 780++ for three courses per person. Available every Monday to Friday from 12.00 p.m. – 2.30 p.m.
SPG members enjoy a minimum of 10% discount. Not a member yet? Join now (Terms & Conditions apply.)
THE EARLY EVENING
MONDAY - FRIDAY | 5PM - 7PM
Begin the evening in The Courtyard's garden or The Bar amid a comfortable ambience while savoring fantastic drink specials: namely, a full 25% discount on signature cocktails, classic cocktails and beers every Monday to Friday from 5PM to 7PM.
VIEW THE COURTYARD A LA CARTE MENU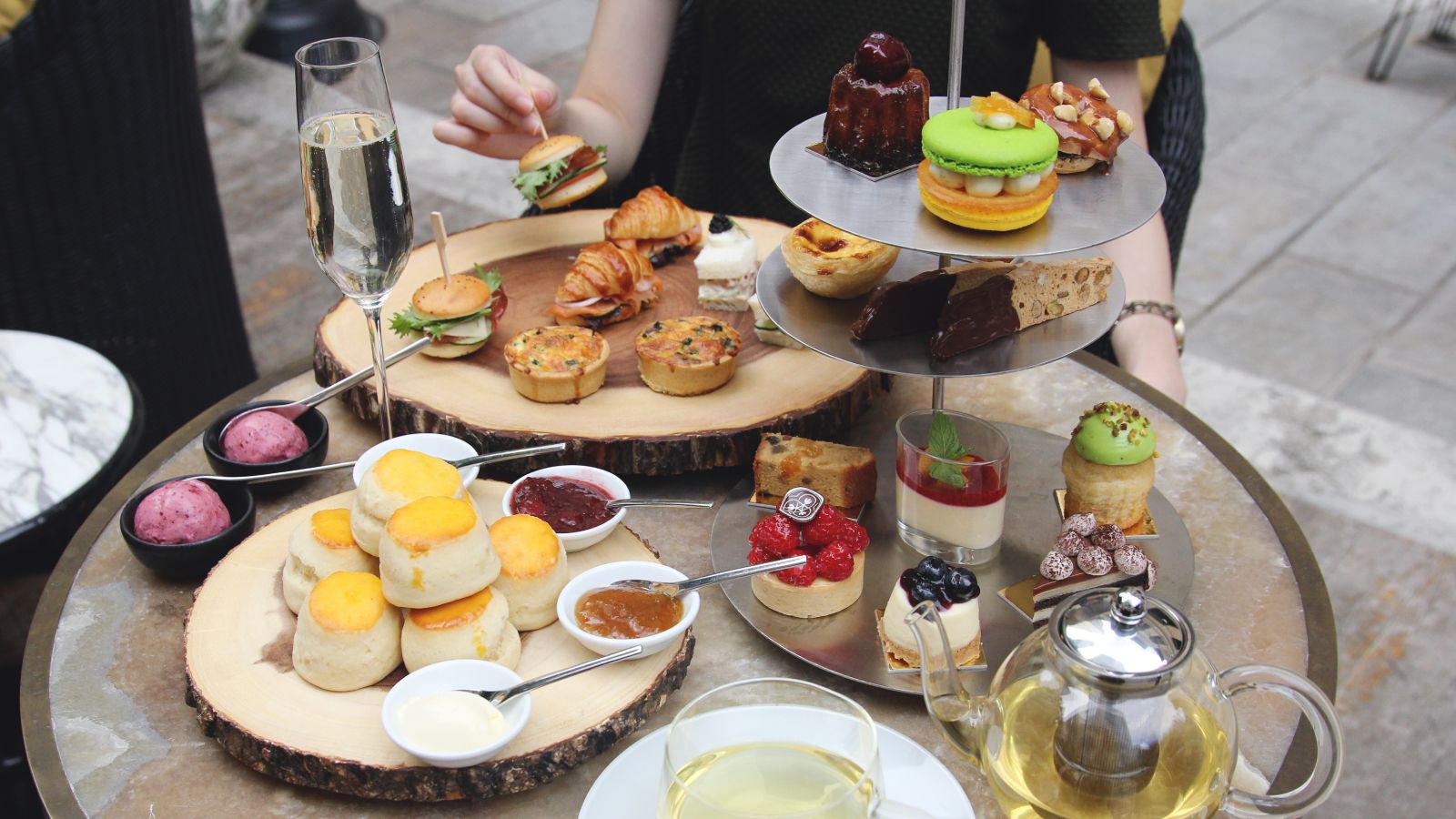 THE AFTERNOON TEA
EVERY DAY | 2:30PM - 5:30PM
The Courtyard now launches a new Heritage Afternoon Tea Set with inspiration with old recipes from the classic traditional afternoon tea, fit for a heritage house. Guests can enjoy this soothing mid-day tradition with a menu featuring sweet and savory favorites all complemented by fine TWG teas.
Our Heritage Afternoon Tea Set begins with a refreshing sorbet of the day, followed by traditional scones with homemade marmalade, jam and Devonshire clotted cream. Pastries include Mixed Nuts Biscotti, Canelé De Bordeaux and 64% Valrhona Chocolate Cake.
Tarts on the menu include Macau Egg Tart, Raspberry Tart and Blueberry Cheesecake. Citrus Macaroon and Peach Melba adds citrusy notes to each dish. Hazelnut Caramel Paris Brest, Candy Fruity Mosaic Cake and a Mascarpone with Pistachio Rum Baba complete the menu's sweet temptations.
Savory treats for an afternoon tea include Prosciutto-Cheese Mini Bun, Scottish Smoked Salmon Croissants, Spinach-Ricotta Quiche Lorraine and Crab-Cucumber Finger Sandwiches.
Hertiage Afternoon Tea at The Courtyard at The House on Sathorn is served daily from 2:30 p.m. to 5:30 p.m. Each set is priced at THB 1,350 ++ including a selection of TWG teas. (Indoor seating is available.)
In addition to the set, guests can enjoy a glass of Chandon Sparkling Wine at THB 420++ and a one Mini Moët & Chandon (20 cl bottle) at THB 1,350++.
MORE INFORMATION OR RESERVATION:
WEBSITE > www.thehouseonsathorn.com
E-MAIL > thehouseonsathorn@whotels.com
TEL > +66 (0) 2344 4025


FOLLOW US: