MY BURGER MY STYLE AT THE KITCHEN TABLE
EVERY DAY | 12:00PM - 10:30PM
THE KITCHEN TABLE, W BANGKOK'S SIGNATURE RESTAURANT, FEATURES CUSTOMIZED PREMIUM BURGERS! PLUS, THE KITCHEN TABLE'S CHEFS BRING 'MY BURGER MY STYLE' TO THE NEXT LEVEL AS WE PRESENT NEW EXCITING SIGNATURE BURGERS WITH A NEW CONCEPT 'DIRTY BURGER' !

Dirty Burgers on the list are Vegan Burger with Gluten-free bun and Lentil & Cauliflower Patty, Grain-Fed Australian Beef Burger with Multigrain Bun, and Pulled Pork Burger with Soft Milk Bun.
Of course, guests can still design their own burger. When guests arrive at The Kitchen Table, they'll have a bit of work to do. But they needn't worry. This is a job anyone would look forward to: designing your own premium burger. 'My Burger, My Style' menu features a huge number of choices including numerous meat and vegetarian options, so you can create the best burger for your taste.
The Kitchen Table's 'My Burger, My Style' menu is available every day for lunch and dinner at THB 550++/set including one beer or soft drink.
*Price is in Thai baht and not inclusive of 7% government tax and 10% service charge.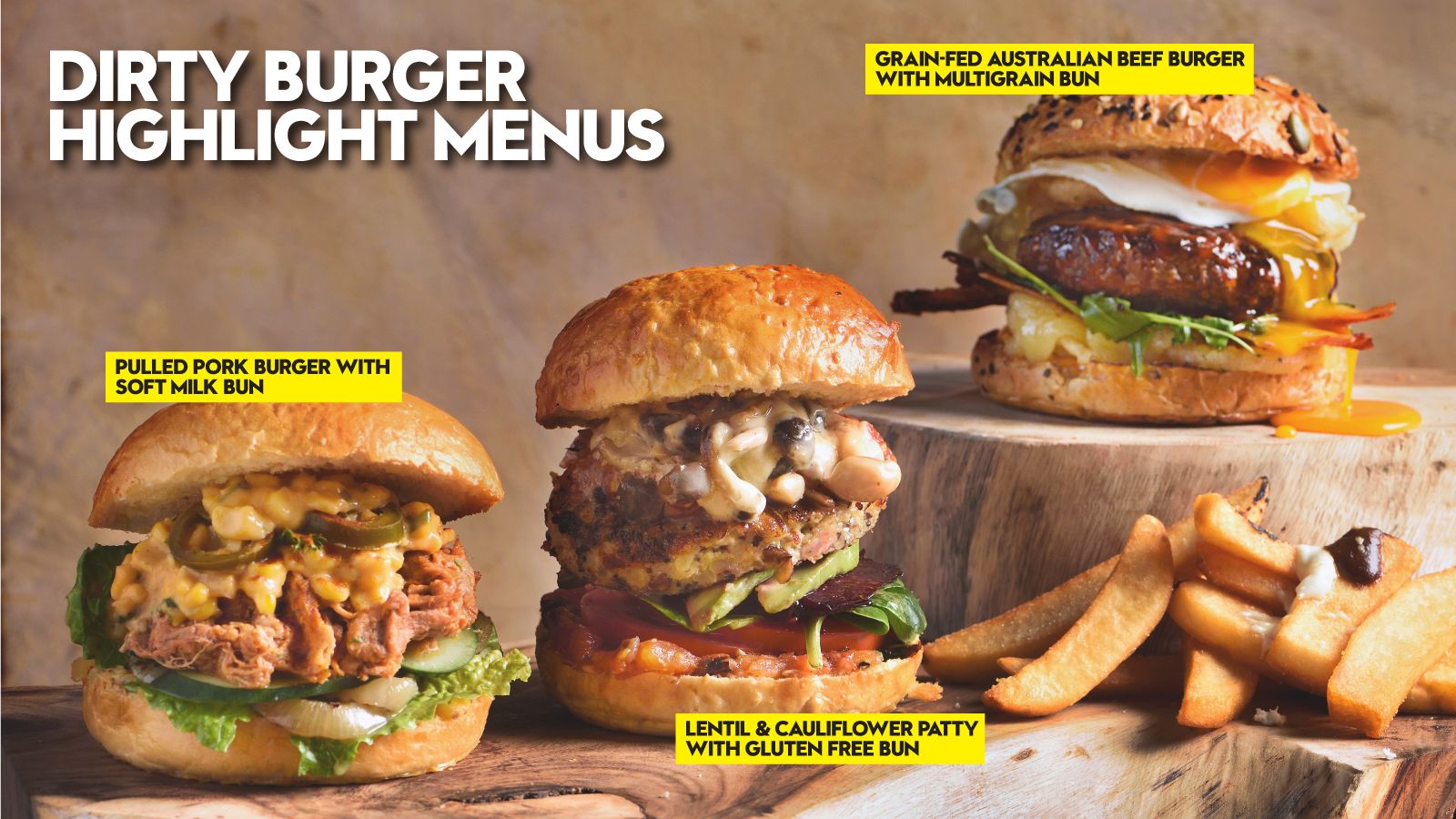 THE MENU
CUSTOMISE YOUR BURGER, CHOOSING FROM HUNDREDS OF POSSIBLE COMBINATIONS!
First, burger builders start with a bun, choosing from poppy seed, whole wheat, brioche or gluten-free. Then it's a selection of meat patty or veggie base: grain-fed Australian beef, tandoor roasted marinated chicken breast, lamb and rosemary, minced pork, grilled Portobello mushroom or vegetable and potato burger.
The best burger in Bangkok isn't merely bun and patty, it is complemented by an array of tantalizing toppings. Among just a few of many toppings, cheeses and sauces are far-from-ordinary choices like fennel slaw, marinated artichoke, wild rocket, brie, feta, Sriracha mayonnaise, minted yoghurt and Thai peanut sauce. Premium toppings and cheeses are available as well at extra charge such as prosciutto, seared foie gras and goat cheese.
Sides for each burger masterpiece include traditional favorites like fries and onion rings in addition to grilled asparagus and tomato salad.
To make a reservation, click here or explore more offers, click here
MORE INFORMATION AND RESERVATION:
E-MAIL > bf.wbangkok@whotels.com
TEL > +66 (0) 2344 4000
IN-HOUSE GUESTS ARE NOW ABLE TO CHAT WITH US VIA:
WHATSAPP OR iMESSAGE > +66 (0) 91 010 0299
BBM ID > DBA34394

MY NOODLE, MY STYLE AT THE KITCHEN TABLE
MONDAY - FRIDAY | 12:00PM - 4:00PM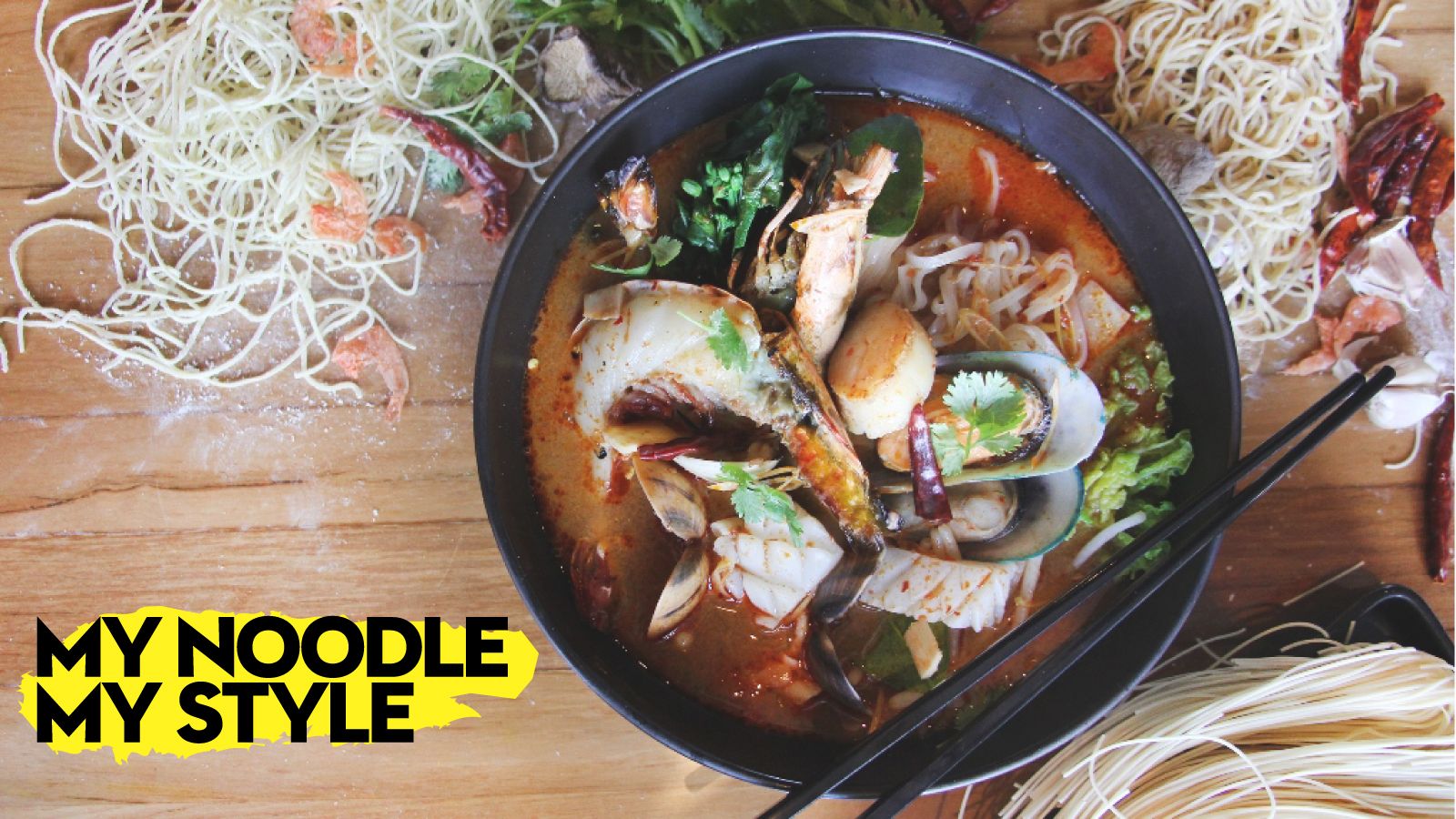 Downtown office workers and anyone who loves a bowl of delicious noodles can enjoy the lunch-time offer just the way they like it with The Kitchen Table's My Noodle My Style menu. The menu lets guests personalize every ingredient: noodle, soup/broth and even cooking method. Diners first choose from two categories, noodles with broth or stir-fried noodles. Each category includes many vegetable selections, among them Chinese cabbage, Thai gooseberry leaf, braised shiitake mushroom and Hong Kong kale. For protein, on the menu are beef, chicken, duck, pork and seafood options.
You can also enjoy the menu's premium ingredients including Wagyu beef shabu, king tiger prawn, Alaskan king crab or snowfish; while stir-fried noodles can be enhanced with the same beef, prawn and crab ingredients in addition to unagi, seared foie gras and sea urchin.
My Noodle, My Style at The Kitchen Table, W Bangkok is available every Monday to Friday from 12:00PM - 4:00PM at THB 480++/set including one The Kitchen Table Iced Tea or Chang beer.
*Price is in Thai baht and not inclusive of 7% government tax and 10% service charge.
To make a reservation, click here or explore more offers, click here
MORE INFORMATION AND RESERVATION:
E-MAIL > bf.wbangkok@whotels.com
TEL > +66 (0) 2344 4000
IN-HOUSE GUESTS ARE NOW ABLE TO CHAT WITH US VIA:
WHATSAPP OR iMESSAGE > +66 (0) 91 010 0299
BBM ID > DBA34394